All students applying must be a graduating Senior from Cypress-Fairbanks ISD. For the period of April 9, 2020 – May 11, 2020, the application for the Schroeder scholarships will be open for those who will be attending a Lone Star College campus full-time in Fall 2020. Students must provide supporting documentation to by May 15 , 2020 or their application will be considered incomplete. Supporting documentation includes an official transcript and parents latest tax return. Due to the pandemic, please request an official transcript from your campus and ask that it be sent directly to the CFEF office at the mailing address below. Your parents tax return will need to be mailed, faxed or emailed to CFEF. Please redact or cross out any social security numbers listed on tax return.
Cy-Fair Educational Foundation
P.O. Box 1698
Cypress, TX 77410-1698
Email: Scholarship@TheCFEF.org
Fax: 832-634-3434
COVID UPDATE
Due to the unusual circumstances of the COVID-19 Pandemic, 2020 CFEF scholarships will be awarded according to the normal Foundation's scholarship process. Should the Foundation be made aware of additional scholarships, grants or other awards made to a selected recipient after May 15, 2020, the $25,000 maximum scholarship award(s) from external scholarships will be waived, for all outside funding. There are no contingencies attached to the awarding of the 2020 CFEF Scholarships.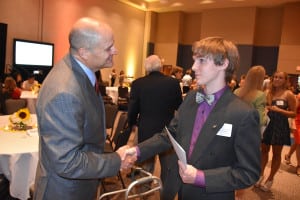 Please note that your application is not final until your official high school transcript and a copy of my parent(s) most recent available federal income tax return is provided to the CFEF through your high school counseling staff. Failing to provide this information will remove you from final consideration of our scholarships.
Please call 281-370-0144 if you have questions regarding the scholarship process.