After the terror attacks on 9/11 took the life of a friend's father, Lacz decided to leave school and join the Navy SEALs, serving two tours in Iraq in 2006 and 2008. Lacz did two platoons at SEAL Team THREE where Kyle became a friend and mentor.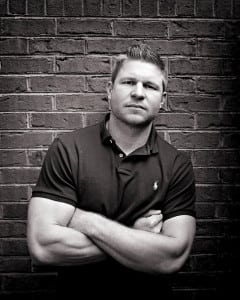 In 2010, Lacz was interviewed for Kyle's book American Sniper. Two years later when the book was being adapted for film, he advised Sniper'sscreenwriter on technical matters for the script and was eventually hired to be a technical advisor on the film. He was cast to play himself alongside Cooper.
Upon completing his enlistment, Kevin was honorably discharged from the Navy. He was awarded a number of commendations for his service, including a Bronze Star with a combat 'V'. He returned to Connecticut and graduated UConn Magna Cum Laude with a degree in Political Science in 2011. In August 2014, Lacz graduated from Wake Forest University with a Masters of Heath Sciences and is a Certified Physician Assistant.
Lacz enjoys using his past experiences to facilitate his work in medicine and charity. His past military service influences him greatly as he seeks to actively support service members and veterans in his community.
Kevin lives in Florida with his wife, Lindsey, and two young children.