The last weekend in February was a busy yet exciting one for the CFEF.  The weekend started with Cypress-Fairbanks ISD's 3rd annual Superintendent's Fun Run & Festival at Towne Lake and the Berry Center benefiting CFEF.  This event featured a 5k, 1-mile, or family path option giving it the flexibility to appeal to a great number of Cy-Fair residents.  The certified 5k course navigated through the Towne Lake neighborhood with medals awarded to the top three finishers in each age/gender category.  The 1-mile run was a great option for beginners and recreational runners.  It took place through the Lone Star College campus.  Lastly, the family walking path was a nice way for families to spend some quality time together while also getting some exercise.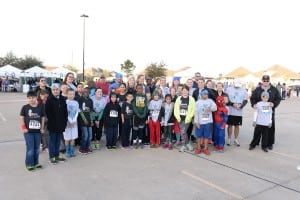 The fun continued after the race with food trucks, vendor booths, and photo ops with mascots and superheroes.  Plenty of activities for kids abounded including performances by community groups, a live band (Sawdust Road), tours of the Superhero Bus, a children's zone with bounce houses, a bungee run, and go karts.
The event was generously underwritten by Cypress Fairbanks Medical Center Hospital.  Towne Lake was a Gold Sponsor for the Superintendent's Fun Run.  The event raised $52,250 for the Foundation, thank you to all of the sponsors and attendees for your support!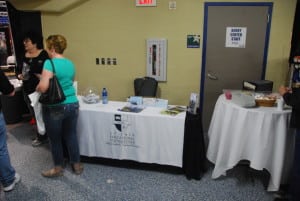 Later that day, we attended the 9th Annual Cy-Fair Home & Garden Show.  Held at the Berry Center, the event was held on both Saturday and Sunday to help attendees create their ideal home with inspiration and fresh, new ideas.  Hundreds of exhibitors and food vendors attended the Show.  We set up our very own booth to increase awareness about CFEF in the community.  We had several handouts to pass along to attendees including information about Donate to Educate (one of our donation programs), general information about the Foundation and our four major events (Salute to the Stars, the Houston Methodist Cy-Hoops Invitational, Salute to Our Heroes, and the B.F. Adam Golf Classic), and an example of one of our success stories.  We also had a cool giveaway: a custom CFEF credit card/ID holder that attaches to your cell phone!
The weather was beautiful over the weekend, 70's and sunny.  Attending both the Superintendent's Fun Run and the Cy-Fair Home & Garden Show brought bright smiles to our faces.  What a weekend!  To stay up-to-date on everything happening at the Cy-Fair Educational Foundation, make sure to follow us on Facebook, Twitter, Pinterest, and LinkedIn!  Today's Students, Tomorrow's Future!