Salute to Our Heroes is our newest event that honors the brave men and women who serve our country. Funds raised from this special evening go to an endowment that enables CFISD students to pursue higher education. This year, Salute to Our Heroes will be taking place on February 11th, 2017 at the Omni Houston Hotel at Westside. Advertising during the event is a great opportunity to support our youth and to bring some publicity to your organization. We will describe the options that are available in our souvenir program book.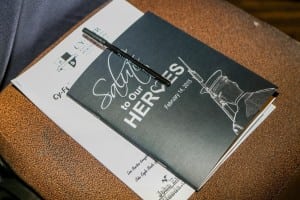 The program is something people hold on to as a memento of their experience. This means your ad will be viewed for years as people go back to the program over time. The program is a high-quality, full-size publication which includes speaker bio, sponsor thank you's, the program schedule, as well a bio on the year's Jeremy Ray Community Service and Peace Award recipient. Here are the options we have available:
Back Cover- SOLD
Inside Front Cover- SOLD
Inside Back Cover- $500
Full Page- $275
One Half Page- $175
One Quarter Page- $125
Business Card Size- $75
Inspirational speaker, dinner, entertainment, as well as live and silent auctions will highlight this special evening. Please consider supporting the event with an advertisement in the program, or a sponsorship. For more information about Salute to Our Heroes, please visit our website. For details regarding advertisements, sponsorships, or ticket sales, please call (281) 370-0144. You can also purchase advertisements or sponsorships directly on our Salute to Our Heroes page. We look forward to seeing you in a couple weeks, thank you for supporting our Foundation!
To stay up-to-date on everything happening at the Cy-Fair Educational Foundation, make sure to follow us on Facebook, Twitter, Pinterest, and LinkedIn!  Today's Students, Tomorrow's Future!