The 2016 edition of the B.F. Adam Golf Classic was held on May 12, 2016.  This blog will serve as a recap of one of our major fundraising events of the year.  With a spring in the Houston area that can be accurately described as rainy, we were fortunate to have bright skies during the golf tournament!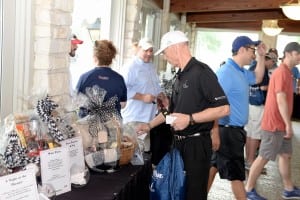 One of the largest non-celebrity tournaments in the Houston area, the B.F. Adam Golf Classic is held each May.  The tournament was held at the beautiful BlackHorse Golf Club and included lunch, dinner, a live auction, a raffle, and an awards ceremony.  We would like to announce the winners of this year's tournament.  As far as the structure, we had a North Course and a South Course.
First place on the North Course was ACU of Texas (Derrick Brown, Kevin Anderson, Corey Lecoq, and Brandon Ott).  Second place went to Jake's Finer Food (Domonick Lorenza, Michael Bench, Pete Vela, and Alex Bramlett).  Third place was Prosperity Bank (Michael Martin, Michael Parmenter, Stephen Ressling, and Johhny Raus).  We also had a contest for Closest to the Hole which was won by O.D. Tompkins.  Our last award went to the Longest Drive which was won by Greg Axelrod.
On the South Course, first place went to Purcell Construction, Inc. (Larry Purcell, David Ortego, Jed Purcell, and Jason Traylor).  Second place went to Alamo Red/The Backyard Grill (Keith Vrana, Scott Vrana, Mark McShaffry, and Jeff Lovett).  Third place was Cypress Fairbanks Medical Center Hospital (Jeff Hedges, Eddie Garcia, Javier Deloze, and Keith Kellner).  Closest to the Hole was won by Brian Jenkins and the Longest Drive by Ryon Smith.  Last but certainly not least, our Putting Contest was won by Brad Kormash.
Overall, the tournament was a huge success, thank you to all of our generous sponsors and participants!  To stay up-to-date on everything happening at the Cy-Fair Educational Foundation, make sure to follow us on Facebook, Twitter, Pinterest, and LinkedIn!  Today's Students, Tomorrow's Future!