The B.F. Adam Golf Classic will be taking place at the Black Horse Golf Club on May 12, 2016.  The event is one of the largest non-celebrity tournaments in the Houston area.  This blog will provide you with some updates surrounding the Classic.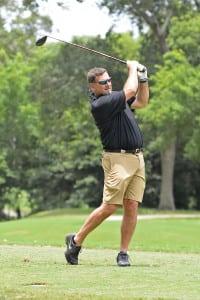 We are excited to announce that the B.F. Adam Golf Classic has sold out—all 72 teams!  This is the earliest the tournament has ever sold out and exhibits the dedication of our community and our partners.  The tourney is one of our major fundraising events of the year benefiting deserving CFISD graduates.
We would also like to highlight our Underwriter for the B.F. Adam Golf Classic: Cypress Fairbanks Medical Center Hospital.  In addition, our Platinum Sponsors:  IBI Group, Linebarger, Goggan, Blair & Sampson, and Satterfield & Pontikes Construction, Inc.  And our Gold Sponsor: KME Salas O'Brien, LLC.  We appreciate your generosity and support of the CFEF.  While many of our sponsorship opportunities have sold out, we do have a couple available.  We only have five Pin Flags left.  The Pin Flags are suitable for framing and are only $300.  We also have Hole Signs available at $200.  Call 281-370-0144 or visit www.thecfef.org today for more information!
For more information on the B.F. Adam Golf Classic, please click here.  To stay up-to-date on everything happening at the Cy-Fair Educational Foundation, make sure to follow us on Facebook, Twitter, Pinterest, and LinkedIn!  Today's Students, Tomorrow's Future!