Many months go into the planning of a major event and when the big day finally arrives, you hope that everything will run smoothly. After experiencing Salute to Our Heroes 2016, we couldn't have asked for a better evening!  Salute to Our Heroes took place on February 13th, 2016 at the splendid Omni Hotel Westside Houston.  This blog will discuss some of the highlights from our first major event of the year.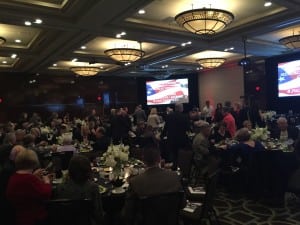 Before the program started at 7:00 P.M., our guests congregated outside of the ballroom.  We enjoyed some refreshments, chatted with friends and family, and perused the impressive array of silent auction items up for grabs.  Along with our live action that took place later in the evening, some of the exciting items we auctioned off included: (1) an exotic car for the weekend (Lamborghini, Rolls Royce, or Ferrari); (2) four Houston Rockets tickets a mere three rows behind the visitors' bench and two autographed pictures; and (3) four lower level rodeo tickets and an autographed guitar to see Luke Bryan.  While this is only a small taste of the auction items that were available, we thank you for your generosity and support.  The funds raised will go to an endowment that enables CFISD students to attend college.
Once the program officially started and we took our seats, we spent the evening honoring the brave men and women that serve our country.  Our charming emcee was Bill Brown who has been the television play-by-play voice of the Houston Astros since 1987.  Bill welcomed everyone to Salute to Our Heroes and then we had a presentation of the colors by the Cypress Woods AFJROTC Color Guard.  This was followed by a lovely rendering of the national anthem by Tina Clinkenbeard.  Representative Allen Fletcher gave our invocation.  We then had a special moment with the Missing Man Table and Honors Ceremony.  A table with six chairs was placed in the middle of the room to commemorate our lost heroes from the five branches of our military and civilians.  Even though they are no longer with us, they are here with us each and every day in spirit.
Taps was conducted by Ryan Lancaster of Cy-Fair High School.  We then had a touching moment where Justin Ray awarded the 1st Lieutenant Jeremy Ray Community Service and Peace Award to John Fox.  On November 4, 2015, John lost his 15-month battle with pancreatic cancer.  His son, Kyle Fox, accepted the award.  John's memory and contributions to the community will not be forgotten.  Adrian Dominguez, CFEF Chairman, then came on stage and offered a couple of words about our Foundation and about the event.  As we ate dinner, the Houston Tidelanders put on a show with a collection of military-inspired songs.
Our featured speaker for the evening was Kevin Lacz.  Kevin served two tours in Iraq for the Navy SEALs where he became friends with Chris Kyle.  Kyle's story was conveyed in the Oscar nominated film American Sniper.  Kevin was a technical advisor on the movie and played himself.  He gave a heartfelt speech about his life and the impact that serving in the armed forces has had on him as a person.  We ended the night with our live auction.  Thank you to everyone that was able to attend Salute to Our Heroes!  And thank you to our event sponsors.  We appreciate your generosity and dedication to the Cy-Fair Educational Foundation!
To stay up-to-date on everything happening at the Cy-Fair Educational Foundation, make sure to follow us on Facebook, Twitter, Pinterest, and LinkedIn!  Today's Students, Tomorrow's Future!