In this week's blog, we are announcing our new partnership with Big Give Houston.  This special event will be taking place in less than a month.  To follow conversations surrounding Big Give Houston on social media, use the hashtag #BigGiveHouston.
Big Give Houston is a 24-hour crowdfunding event that allows you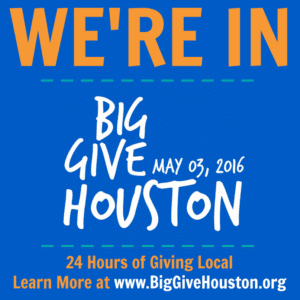 to give back to your local community by supporting organizations that tackle critical issues.  Donating is an quick and easy process.  The event takes place on the first Tuesday in May.   This year, the big day is May 3, 2016.  You will have the opportunity to donate online through Big Give Houston's website.  Your support is instrumental in helping us raise funds to increase college access for graduates of Cy-Fair ISD by awarding scholarships and to promote excellence in teaching by providing staff development grants to CFISD.
We hope that you will have the opportunity to participate in Big Give Houston.  Thank you for your support!  To stay up-to-date on everything happening at the Cy-Fair Educational Foundation, make sure to follow us on Facebook, Twitter, Pinterest, and LinkedIn!  Today's Students, Tomorrow's Future!