Salute to Our Heroes will be taking place this Saturday, February 13th, 2016.  While our first major event of the year is only a few days away, we want to take a moment to announce a wonderful honor we have received.  We have been selected as one of the nation's top K-12 education foundations!  This blog will discuss the award and the methodology behind the study.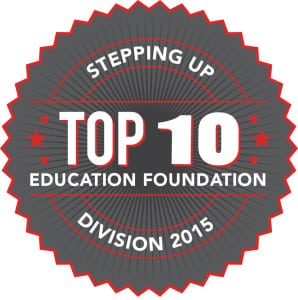 Stepping Up is the country's only study and ranking of K-12 education foundations.  The study ranks the top 50 education foundations in the nation on an annual basis.  We are proud to announce that our overall rank is 31st in the entire country!  Delving a little deeper, our overall rank is third in Texas.  Part of what makes us so proud is the selectivity of this honor.  According to Dewey Caruthers, the author of the study:
"This year's competition was fierce…it is a serious accomplishment to make it into the top 50 K-12 education foundations in the nation."
As the size of educational foundations in the United States varies quite a bit, the study breaks up the rankings according to annual revenues.  The Cy-Fair Educational Foundation is part of Division 2 which consists of foundations that are of similar size to us.  In Division 2, we were ranked third in the nation!  This Division was highly competitive with a large number of strong foundations and we moved up a spot from fourth last year.
The methodology of the study uses eight performance categories to rank foundations: (1) total revenues; (2) revenues per student; (3) total assets; (4) assets per student; (5) grant and program expenses; (6) grant and program expenses per student; (7) investment income; and (8) volunteers.  In addition, the foundations that appear in the most categories are ranked highest, highlighting the importance of being well-rounded.  The study is performed by dewey & associates, a national management and strategy consulting firm.
We are humbled to receive this award and are hopeful to remain one of the top education foundations in the nation in next year's 2016 rankings!  To stay up-to-date on everything happening at the Cy-Fair Educational Foundation, make sure to follow us on Facebook, Twitter, Pinterest, and LinkedIn!  Today's Students, Tomorrow's Future!