The Cy-Fair Educational Foundation has a special program for companies and individual donors who support the Foundation's four major fundraising events: Salute to Our Heroes, the B.F. Adam Golf Classic, Houston Methodist Cy-Hoops Invitational, and Salute to the Stars.  In this week's blog, we would like to highlight one of our most prominent donors: the Cypress Fairbanks Medical Center Hospital.  The Cy-Fair Medical Center is one of our Platinum Foundation Partners, the highest level that we offer.
Cypress Fairbanks Medical Center Hospital has been serving the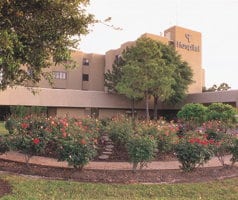 Northwest Houston community since 1983.  The facility boasts a 180-bed hospital, offering a multitude of services and specialties including a 24-hour emergency department, surgical services such as weight loss surgery, therapy and rehabilitation services, and a women's health center.  In addition to continuing its active role promoting the health of the community, Cy-Fair Medical Center also gives back by making donations to several local charities including the CFEF.  The hospital has received numerous accolades for the high quality care they provide.  A small sampling of these awards include being ranked among the top 10 Best Hospitals in Houston by US News & World Reports, Breast Imaging Center of Excellence from the American College of Radiology, and Primary Stroke Center Certification from the Joint Commission.
Cy-Fair Medical Center has a long history with the CFEF.  To give you an idea of their commitment and generosity, they have been an Endowment Partner for more than 10 years.  They have also been a Platinum Foundation Partner since 2011.  Cy-Fair Medical Center has served as the underwriter for Salute to the Stars since 2013.  The CEO of the hospital, Terry Wheeler, has been a member of the CFEF Board since August of 2004.  He is currently the Chair-Elect for our Foundation.  The Cypress Fairbanks Medical Center Hospital has been instrumental in helping the CFEF achieve its goal to provide scholarships for high school students to pursue higher education.  Thank you for your support!  To stay up-to-date on everything happening at the Cy-Fair Educational Foundation, make sure to follow us on Facebook, Twitter, Pinterest, and LinkedIn!  Today's Students, Tomorrow's Future!