Salute to the Stars, what an event!  Our gala took place just a few weeks ago and we are still reveling in such a special night.  Salute to the Stars honors Cy-Fair ISD's best teachers who have had such a significant impact on our youth.  As our focus shifts to next year's event, we do want to touch on one part of the gala that was memorable.  During Salute to the Stars, Ed Station was honored.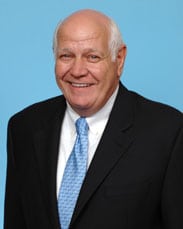 Ed has a rich history with CFEF.  He is a former trustee on the board.  His company, Station & Ayers Insurance Services & Consulting, LLC was the first underwriter for the very first Salute to the Stars eighteen years ago in 1997.  Station & Ayers Insurance Services & Consulting continued as an underwriter for the gala until 2003.
Ed's dedication and support of CFEF over many years runs deep and extends beyond underwriting Salute to the Stars.  In addition to supporting every event, he has three endowments with CFEF and was instrumental in helping to launch Salute to Our Heroes.  Salute to Our Heroes is our newest event and it honors the brave men and women who serve our country.  Ed has purchased countless auction items and goes above and beyond in giving his time and effort to make an event successful.
During Salute to the Stars, we ran a short video where Fred Caldwell, Caldwell Companies, Dr. Mark Henry, CFISD Superintendent, and Marie Holmes touched on Ed's dedication to the kids and teachers of CFISD as well as the Foundation.  Ed's business partner, Audrey Ayers, was presented with an edged crystal commemorative piece.  Honoring Ed is just a small token of our appreciation for his continued support of CFEF.  We look forward to working with Ed again in the future, thank you for your support!  To stay up-to-date on everything happening at the Cy-Fair Educational Foundation, make sure to follow us on Facebook, Twitter, and LinkedIn!  Today's Students, Tomorrow's Future!