Established in 2009, the Houston Methodist Cy-Hoops Invitational basketball brings together 24 high school teams—including the 10 Cypress-Fairbanks boy's varsity teams. Cy-Falls High School Boy's Basketball is the Class 6A State Champions, so it's sure to be a great weekend of competitive hoops.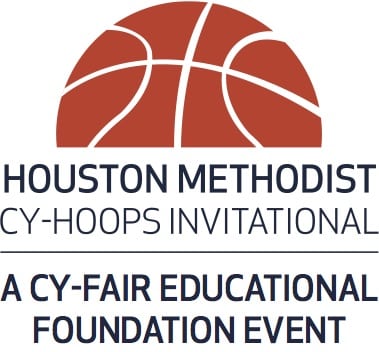 About the Invitational
The 2017 Houston Methodist Cy-Hoops Invitational will take place December 7-9, and we hope you will join us. In addition to raising funds for student scholarship and staff development grants, the goal of the invitational is to engage our community, promote the sport of basketball, and foster a community spirit that serves us all.
Games will be played at the Berry Center and various Cy-Fair ISD high schools; stay tuned for more information about this fun-filled fundraising weekend!
Quick Tips
Sponsorship Opportunities are available.
Kids who wear their school or team jersey get free admittance and courtside seating at the games!
Tournament Tickets will be available.
Sponsorship
For information about the Houston Methodist Cy-Hoops Invitational, and about tournament sponsorship, contact CFEF: 281.370.0144 or visit the main website www.thecfef.org. There are a variety of sponsorship levels ranging from $500 to $10,000. Don't forget to check to see if your company offers corporate matches.
Stay connected with Cy-Fair Educational Foundation–follow us on Facebook, Twitter, Pinterest, and LinkedIn.  Today's Students, Tomorrow's Future!