In this blog, we will take a look at Donald Thornton's legacy and the impact he had on the Cy-Fair Educational Foundation.
Donald dedicated his life to education and to the Cy-Fair community. From September 1964 to 1991, he served in the CFISD for 28 years as a teacher, coach, Associate Superintendent, and Superintendent. Donald was Superintendent from 1986 to 1991. One of Donald's important responsibilities during his time with CFISD was figuring out how to apply for large sums of federal money. At the time, school districts had just become eligible to receive the funds.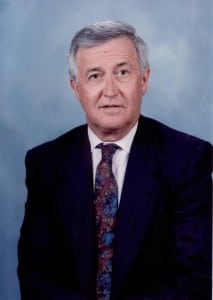 Donald also contributed greatly to the CFEF. He became a Board Member in 1982 and served in that role for close to ten years. He retired from the Superintendent position, and the CFEF Board, in 1991. Two years later, Thornton Middle School opened in his honor. Both Donald and his wife, Dixie, were well-respected, dedicated employees of CFISD who helped to shape the direction of the school district.
Regarding his thoughts on the CFEF, Donald noted that the organization has grown and adapted to CFISD's size and needs. He was enormously impressed with the amount of scholarship funding raised through CFEF on an annual basis to keep pace with the rising cost of education and the growing need for student scholarships and teacher grants. "They have carried it further than [CFEF's] founders and I could even envision," Donald said. "CFEF started out raising money for one scholarship a year, which was great, but now it raises far beyond what we imagined. The Foundation has exceeded our expectations."
Donald Thornton passed away on March 31, 2016. We are grateful for the significant contributions Donald made to the CFEF and to the Cy-Fair community during his life. To stay up-to-date on everything happening at the Cy-Fair Educational Foundation, make sure to follow us on Facebook, Twitter, Pinterest, and LinkedIn!  Today's Students, Tomorrow's Future!