Salute to Our Heroes will be taking place in a month, February 13th, 2016 at the Omni Hotel Westside Houston.  Cy-Fair Educational Foundation regrets to announce that Captain Gerald Coffee will be unable to serve as our keynote speaker due to serious health complications.  Our thoughts and prayers are with Captain Coffee and we are pleased to learn that he is expected to make a full recovery.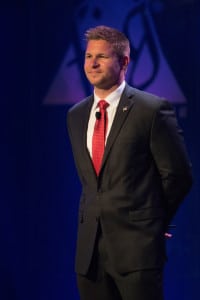 On a more positive note, we are thrilled to announce that the upcoming gala will feature Navy SEAL, sniper, combat medic, and author, Kevin Lacz.  Kevin is a military hero and a strong advocate for veterans.
After the terrorist attacks on 9/11 took the life of a friend's father, Kevin decided to leave school and join the Navy Seals, serving two tours in Iraq in 2006 and 2008.  During his service, Chris Kyle became a friend and mentor to Kevin.  Chris is the subject of the critically acclaimed and Oscar-nominated film, American Sniper.  Kevin contributed to Kyle's book and then aided the production of the film as a technical advisor.  He was also cast to play himself alongside Bradley Cooper.
After his second tour, Kevin was honorably discharged from the Navy.  He received several commendations for his service including a Bronze Star with a combat 'V'.  He returned to school and graduated Magna Cum Laude from the University of Connecticut with a degree in Political Science in 2011.  In August 2014, Kevin graduated from Wake Forest University with a Masters of Health Sciences.  He is a Certified Physician Assistant.  Kevin now lives in Florida with his wife, Lindsey, and their two young children.
Kevin is a sought after communicator and leader—we are honored to host him as our 2016 keynote speaker!  For more information on Salute to Our Heroes, visit our website.  To stay up-to-date on everything happening at the Cy-Fair Educational Foundation, make sure to follow us on Facebook, Twitter, Pinterest, and LinkedIn!  Today's Students, Tomorrow's Future!