Since its inception, the Cy-Fair Educational Foundation has awarded more than $6 million in scholarships to more than 1,300 graduates of Cypress-Fairbanks ISD. To put into perspective the impact of these scholarships on our youth, here is a testimonial from Susheela Amrita Patwari, who graduated from Langham Creek in 2004:
"Your foundation has helped finance one of the greatest gifts in life, education, one of the few priceless assets in life…"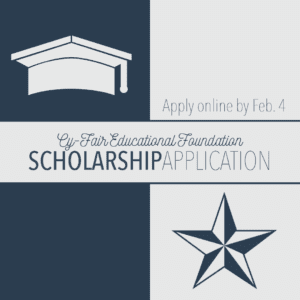 The scholarship deadline is approaching on February 4, 2016. With the deadline less than a month away, we would like to remind you that your application must be completed and submitted online by this date. Any supporting data must be submitted to your school lead counselor by February 10, 2016. However, Edwin Schroeder scholarship applications, which require Lone Star college attendance, are not due until May 12, 2016. Your application is not final until your high school transcript and a copy of your parent(s) most recent available federal income tax return is provided to the CFEF through your high school counseling staff. Failing to provide this information will remove you from final consideration for our scholarships.
If you have any questions regarding the scholarship process, please call 281-370-0144. To apply online, click here. We are looking forward to all of your scholarship applications! To stay up-to-date on everything happening at the Cy-Fair Educational Foundation, make sure to follow us on Facebook, Twitter, Pinterest, and LinkedIn! Today's Students, Tomorrow's Future!