The 2016 Salute to the Stars gala will take place on October 13, 2016 at the Berry Center.  One of our major fundraising events of the year, it honors CFISD's best teachers who have such a significant impact on our youth.  This blog will focus on the silent auction that takes place at the gala.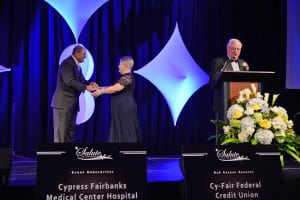 Our 19th annual Salute to the Stars gala recognizes Spotlight Teachers in CFISD.  Each campus principal selects a Spotlight Teacher who is recognized as representing a unique balance of art, skill, and heart in teaching students in his or her subject area or program.  We are looking for donations for our huge raffle at the gala.  We typically have 100-130 raffle baskets each year at Salute to the Stars.  Baskets range in value from $100-$150.  They can be a combination of items or standalone.
Companies can donate a variety of gifts including gift cards to restaurants, stores, and movie theaters; gift certificates to spas, nail salons, gym membership/trials, or hotel stays; event tickets—sports, theater, and concert; items for baskets—jewelry, electronics, decorative home items, sports memorabilia; college spirit items; camping, fishing, hunting gear, etc.  This serves as a good source of inspiration!  If you are interested in donating items for our silent auction, please contact us at 281-370-0144.  For more information on Salute to the Stars, please visit our website.  To stay up-to-date on everything happening at the Cy-Fair Educational Foundation, make sure to follow us on Facebook, Twitter, Pinterest, and LinkedIn!  Today's Students, Tomorrow's Future!