The time is here!  The Houston Methodist Cy-Hoops Invitational starts tomorrow: December 10th-12th at the Berry Center, Cy-Woods, Cy-Fair, and Langham Creek High Schools.  This blog will discuss some of the exciting promotions and fun activities that will be going on at the tourney.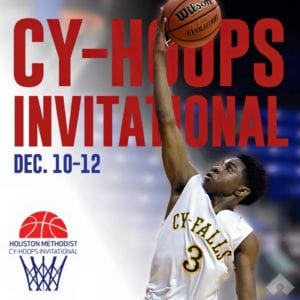 We will have prizes galore at the Invitational including: several $100 gift cards to local stores, gift baskets from PDQ, Final Four gift baskets, tickets to the Southland Conference Basketball Tournament, a Human Performance Package from Houston Methodist Hospital, and many more!  Drawings will take place from 1-7pm on Saturday, December 12th at the Berry Center.  All you have to do is sign up and be present to win.
Bring your kids to the tourney as it's a family friendly event.  On Friday and Saturday, at the Berry Center, Santa Claus will be making a special guest appearance!  Stay up-to-date on tournament results by clicking here.  Updates will be posted throughout the duration of the Invitational.
To get you excited for the event, check out our 30-second promotional video.  For more information, visit our website.  Come out and join in on the fun!  To stay up-to-date on everything happening at the Cy-Fair Educational Foundation, make sure to follow us on Facebook, Twitter, and LinkedIn!  Today's Students, Tomorrow's Future!