The Cy-Fair Educational Foundation (CFEF) was created in 1970 after community leaders contacted Allen Labay, then deputy superintendent of Cypress-Fairbanks ISD., and Dr. Karl Bleyl, a Cy-Fair educator and science consultant to develop a scholarship fund.  45 years later, we are proud to introduce you to our new blog!  The purpose of our blog is to connect with the Cy-Fair community, our partners, volunteers, and anyone else interested in what we do to keep you updated on noteworthy events going on at the Foundation.  We will publish a new blog on a weekly basis so we are looking forward to keeping in touch with you!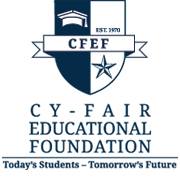 In our inaugural edition, we have some great news to share with you.  The introduction of the blog is not the only exciting new change going on around our neck of the woods.  We are also very excited to launch our newly redesigned website!  While we loved our old website, our new one has really kicked things up a notch by offering a more visually appealing and user-friendly design.  For example, making donations will be easier than ever before.  You will also be able to find information on our various events including the B.F. Adam Classic Golf Tournament, the Salute to the Stars Gala, the Cypress Hoops Invitational, and Salute to Our Heroes.  Furthermore, our website is responsive which means that it provides optimal viewing across a wide range of devices including mobile and tablet.  This means that whether you're accessing our website from your desktop, iPhone, iPad, or any other device, rest assured that it will be a smooth experience no matter the device.  Our social media platforms will also be prominently featured on our website so we encourage you to follow us on Facebook, Twitter, and LinkedIn.  These platforms are just another valuable resource to keep you up-to-date on all the happenings at CFEF.
You may be asking yourself why all the changes?  Our new website and the introduction of this blog are all part of our redesigned brand.  We have tweaked our logo (which you can see up above) and we all feel ecstatic about the present and the future of CFEF.  We couldn't do what we do without the generous support of our community and we are thankful to each and every one of you.  Education has such a significant impact on the lives of our children.  By providing scholarships to high school students to pursue higher education, and providing staff development grants to teachers, we are doing our best to ensure that the future of our community is bright.  Today's Students, Tomorrow's Future!