It is safe to say that the success of the Cy-Fair Educational Foundation would not be possible without the dedication and hard work of our Board of Trustees.  The man at the helm, the chair of the CFEF, is Adrian Dominguez.  This blog will give you a background on Adrian and his impressive career and contributions to the community.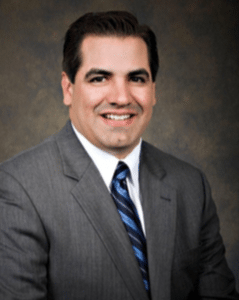 Adrian Dominguez graduated from Texas Tech University with a BBA and an MBA from the University of Texas at Dallas.  His lending career began in 1994 with Omni American FCU where he cultivated an indirect learning program that helped name the company as the leading credit union in the nation in total loan percentage increase for 1995.  A year later, Adrian co-developed the indirect lending program for FLS services in Dallas and Fort Worth, which aggregated auto loans for eight different credit unions.
During 1997, FLS's Dallas/Fort Worth operations generated more than $84 million in loan volume without any losses and only $82,000 in loan delinquency greater than 60 days.  In addition, prior to joining CU Alliance, Adrian was instrumental in developing and deploying Community Credit Union's auto leasing program with AutoFlex Leasing.
Adrian joined CU Alliance in 2000 as the President and CEO and orchestrated the successful re-launch of the CU Alliance Indirect Lending Platform by building out an extensive dealer network and focusing refinements to the indirect lending model.  Within a short three-year period, the CU Alliance team had expanded its Indirect Lending Platform into six states, serviced more than sixty credit union clients, and aggregated in excess of $800 million in auto loans.  Since 2007, Adrian and his team have diversified CU Alliance into two additional credit union business units: a full service mortgage company and a retail repossessed auto liquidation facility.
A resident of Houston for 16 years, Adrian and his wife Lisa have three children and have been married for 22 years.  He enjoys watching and playing golf, fishing, and hunting.  He also coached his son's football team and served as an assistant coach for his son's baseball team.  To stay up-to-date on everything happening at the Cy-Fair Educational Foundation, make sure to follow us on Facebook, Twitter, Pinterest, and LinkedIn!  Today's Students, Tomorrow's Future!