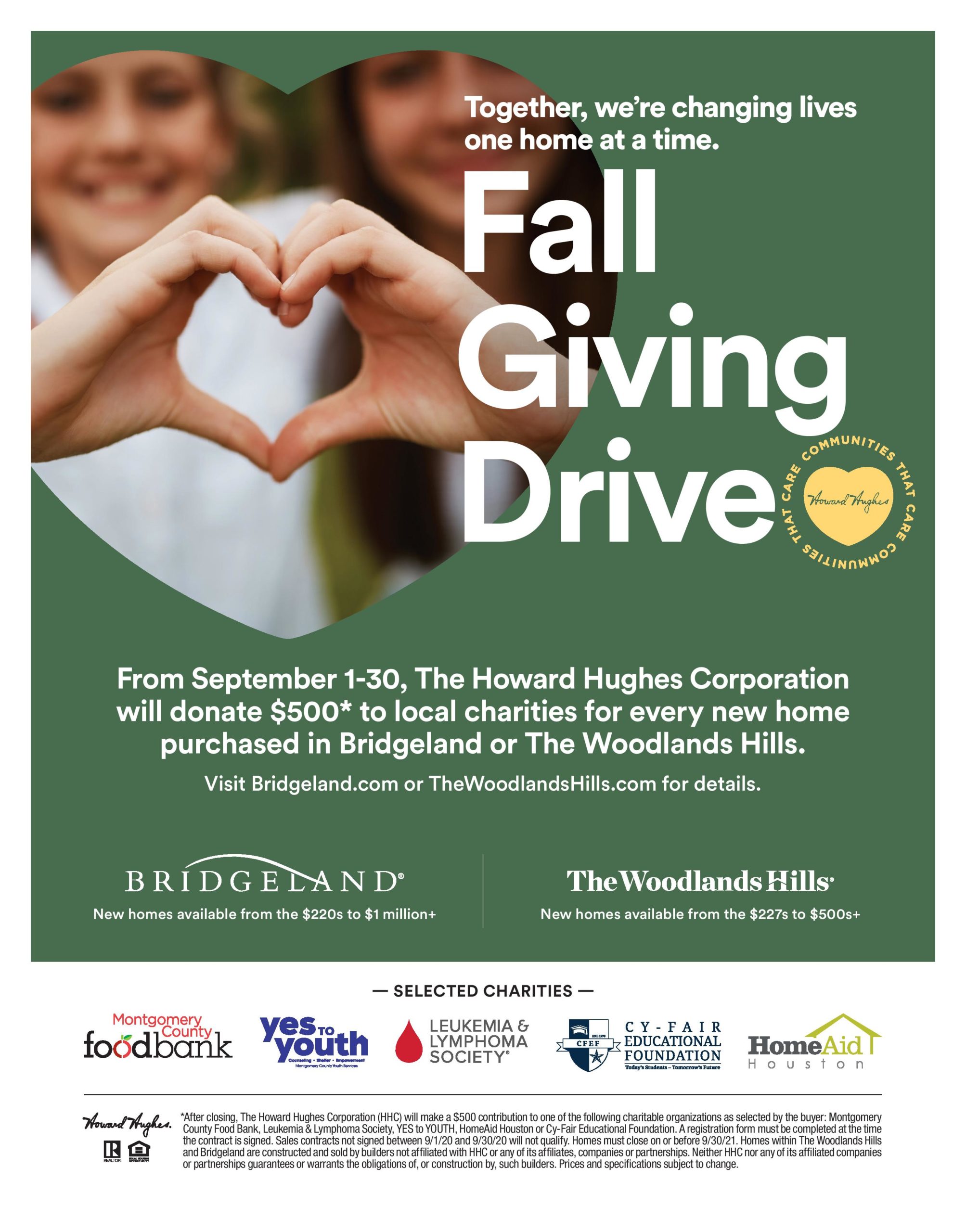 During the month of September, the Cy-Fair Educational Foundation is serving as a participant in a special program established by The Howard Hughes Corporation. Throughout the entirety of the month, home buyers who purchase a house in one of two Houston-area communities will be able to select the Foundation as the recipient of $500 donations provided by The Howard Hughes Corporation. This initiative is part of the Corporation's Fall Giving Drive.
The Howard Hughes Corporation owns, manages, and develops commercial, residential, and mixed-use real estate throughout the country. As part of the Corporation's philanthropic arm, it developed the Fall Giving Drive as a way to give back to the community. Our Foundation was selected to participate in the program. Any home buyer who purchases a home this month in either Bridgeland or The Woodlands Hills will have the option of selecting our Foundation as the recipient of a $500 donation on behalf of The Howard Hughes Corporation.
Both of the communities mentioned are wonderful places to live. Bridgeland is the number one-selling master-planned community in the entire state of Texas. The Woodlands Hills is an award-winning master-planned community itself. Furthermore, the timing could not be better to buy a new home as we are currently experiencing record-low mortgage interest rates. As a result, we are seeing homes selling at record-breaking numbers in the Houston area. Having the opportunity to purchase the home of your dreams while simultaneously doing good for the community is a true win-win.
We are deeply grateful to be a part of such a special program. Thank you to The Howard Hughes Corporation and to home buyers in Bridgeland and The Woodlands Hills who have generously donated to our Foundation. Your support makes all the difference in helping in increasing college access for high school students and instructional support for teachers of Cy-Fair ISD.
To stay up-to-date on everything happening at the Cy-Fair Educational Foundation, make sure to follow us onFacebook, Twitter, Pinterest, and LinkedIn.
Today's Students–Tomorrow's Future!