The mission of the Cy-Fair Educational Foundation (CFEF) is to raise funds to increase college access for graduates of Cy-Fair ISD by awarding scholarships and to promote excellence in teaching by providing staff development grants.  For more than 45 years, we have relied on the generosity of individuals, businesses, and the community.  Not a day goes by where we don't feel thankful for what everyone does to help our students achieve their dreams.  One of the major ways that we raise funds is through endowed scholarships.  This blog will discuss what an endowed scholarship is and the conditions that are necessary to maintain the scholarship.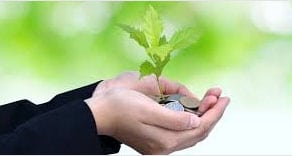 Simply put, endowed funds are different from other types of funds as they are truly the gift that keeps giving.  Instead of spending the entire amount of the gift outright, the principal amount of the gift is invested.  Each year, only a portion of the invested income earned is spent while the remainder is added to the original principal.  An endowment is perpetual in nature as the principle continuously grows due to interest earned.
Here are the conditions that must be met to create and maintain an endowed scholarship:
Endowments may be established in the amounts of $20,000, $50,000, $100,000 or more;
Endowments will be named for private individuals, corporations and organizations, in memory of individuals and in honor of individuals;
A scholarship will be awarded on an annual basis once the endowment is fully funded;
Endowments will be designed with the Foundation's minimum criteria and may also include special criteria;
Should the endowment not reach full funding in seven years, the total amount donated will be transferred to the Foundation's General Fund;
An endowed scholarship that is fully funded by December 31 of a calendar year will be awarded for the academic year beginning the following fall;
The donor will execute an endowment agreement with the Foundation to create a legal agreement for the endowment; and
All endowments have seven years to fund.
If you would like to view a list of our endowment partners, you may do so here.  If you would like more information about endowed scholarships or different ways to donate, please contact Executive Director Marie Holmes at 281-370-0144.  To stay up-to-date on everything happening at the Cy-Fair Educational Foundation, make sure to follow us on Facebook, Twitter, and LinkedIn!  Today's Students, Tomorrow's Future!