Each and every day, we have the privilege of working closely with countless schools in the Cy-Fair area. One of the schools that we have a close relationship with is Cypress Ridge High School (Cy-Ridge). On July 5th, 2017, Cy-Ridge's first principal, Claudio Garcia, passed away. We were deeply saddened to hear the news and we honor Mr. Garcia's contributions to our community with a new initiative.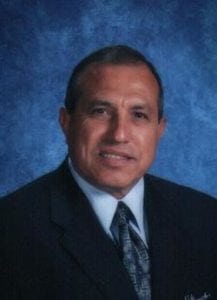 Mr. Garcia was born on January 27th, 1950 in Mathis, Texas but grew up in the small farming community of Orange Grove. As a child, he always dreamed of becoming a cowboy even though his parents always stressed the importance of education. Mr. Garcia ended up heeding his parents' advice and graduated with a bachelor's degree and a master's degree from Texas A&I University–Kingsville.
Mr. Garcia started his career as a teacher and coach in  small South Texas  schools such as Odem High School, Skidmore High School, Ben Bolt High School, and Orange Grove High School. He later became the Assistant Principal of Orange Grove High School and then the principal of Orange Grove High School and then the principal of Orange Grove Junior High. He then took the position as principal of Flour Bluff Junior High and then Calallen High School, Before moving to the Houston area to open Cy-Ridge in 2002.
As Cy-Ridge's leader, Mr. Garcia built a strong foundation to encourage the success of his students. He wanted the school to feel like family—a place where teachers and staff offered support to students so they could achieve their dreams. He also frequently attended student events, including football games. As a former football coach. Mr. Garcia appreciated the life lessons that the game provides to athletes and to fans. He was often seen cheering the team along from the sidelines.
Mr. Garcia left a lasting impact on so many students, teachers, staff members, and other members of the community. To honor his legacy, we have partnered up with Cy-Ridge High School's current principal, Stephanie Meshell, and her staff to establish an endowment in his name. This endowment will honor Mr. Garcia's legacy by continuing to promote the initiatives he dedicated his life to. The cost of higher education continues to rise which makes the prospect of college a tough proposition for many students. Through the generous contributions of our community, an endowment gives high school students an opportunity to continue their education.
The endowment In Honor of Claudio Garcia will allow Cy-Ridge students to pursue their dreams. If you are able, we urge you to donate to this cause. For those interested in donating, you may do so online or by sending a check to the following address: Cy-Fair Educational Foundation, 11803 Grant Road, Suite 115, Cypress, TX 77429. For more information, feel free to give us a call at (281)-3701-0144. We thank you for your generosity in supporting Cy-Ridge High School students and the memory of one of the leaders of our community, Mr. Claudio Garcia.
To stay up-to-date on everything happening at the Cy-Fair Educational Foundation, make sure to follow us on Facebook, Twitter, Pinterest, and LinkedIn. Today's Students, Tomorrow's Future!