The Houston Methodist Cy-Hoops Invitational is less than a month away: December 10th-12th at the Berry Center, Cy-Woods, Cy-Fair, and Langham Creek High Schools.  With the tourney fast approaching, this blog will announce the participating boys' varsity teams.  In addition, if you are planning to attend the event with your children, we have some fun activities for your kiddos in between the games.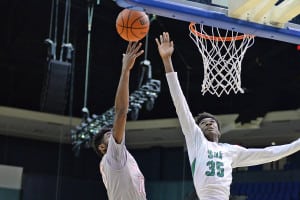 There are ten CFISD teams participating: Cy-Creek, Cy-Fair, Cy-Falls, Cy-Lakes, Cy-Ranch, Cy-Ridge, Cy-Springs, Cy-Woods, Jersey Village, and Langham Creek.  Outside of CFISD, there are also 14 out-of-district teams participating: South Grand Prairie, Spring, Beaumont Ozen, Dallas Kimball, Dekaney, Alief Elsik, Aldine Linitz, Alief Hastings, North Shore, Killeen Harker Heights, Killeen Shoemaker, SA Schertz Clemens, Texas City, and Summer Creek.  This gives us a grand total of 24 boys' varsity teams.
Here are some exciting tournament facts about a few of the participating teams and about the Invitational in general: (1) 2014 tournament champion Beaumont Ozen was also the 5A state-runner up; (2) 2013 tournament champion Galena Park North Shore was the 6A state champion; (3) SA Schertz Clemens won Region IV 6A and advanced to the state tournament in 2014; and (4) the 2014 tournament featured over 16 Division I basketball players who committed to play basketball at the collegiate level or who went on to attend college this fall.
In between the exciting games, there is plenty to do with your kids in Cypress and the surrounding areas.  One good spot is the Little Beakers Science Lab for Kids.  At Little Beakers, children and their parents can play in a real science lab built for children.  Another good place for your kids is the K2 Academy of Kids Sports that has a variety of activities and programs for children.  Lastly, Monkey Bizness is an innovative concept in children's amusement where your little ones can truly "monkey around!"  These activities are great ways to keep your kids busy and entertained.
If you would like more information on the Invitational, check out our website.  To stay up-to-date on everything happening at the Cy-Fair Educational Foundation, make sure to follow us on Facebook, Twitter, and LinkedIn!  Today's Students, Tomorrow's Future!